Vietnam is a country of contrasts. Lush jungles, rice paddies, and water buffalo in the countryside. Gleaming skyscrapers, scooters, and street food stalls in the cities. And along the coast, idyllic beaches with swaying palms. With so much to offer travelers, it can be tough deciding where to go. But for many, the top two destinations are the historic cities of Hue and Hoi An. So which to choose – Hue or Hoi An? Let's explore what makes each special.
My pick
While Hue's imperial history is fascinating, Hoi An's Ancient Town seems more vibrant and lively to me. Wandering the pedestrian streets and lantern-lit alleys, shopping in the old shophouses, and seeing traditional architecture intact sounds magical. Hue's imperial sights, while impressive, seem more museum-like.
The cuisine of Hoi An also appeals to me more than Hue's imperial dishes. I love Vietnamese food, and the mix of Vietnamese, Chinese, Japanese and French influences in Hoi An excites my taste buds. The cooking classes and street food tours would be a highlight.
The countryside and scenery around Hoi An looks stunning with the rice paddies, rivers, beaches, Marble Mountains and Cham Islands. I'd enjoy exploring by basket boat or snorkeling at the islands. Hue's scenery also looks beautiful, but Hoi An's diversity and seaside location edge it out.
While Hue was the historic capital, Hoi An seems more cosmopolitan today with its diversity of cultures and influences. I'm drawn to that multicultural element.
The compact size of Hoi An's Old Town makes it ideal for walking and soaking up the atmosphere. Hue is bigger and more spread out, which is less my speed.
Of course, there are excellent reasons to visit both cities! But if forced to choose one for a first visit to Central Vietnam, Hoi An would be my personal pick. Its food, architecture, scenery, walkability and river/seaside setting capture my imagination. Let me know if you have a different take after reading the blog post!
History and Culture
Both Hue and Hoi An boast incredibly rich histories and cultures just waiting to be uncovered.
Hue served as the political capital under the Nguyen Dynasty, Vietnam's last royal dynasty, starting in 1802. As the imperial seat of power for over 100 years, Hue contains a wealth of regal history and architecture. The sprawling Citadel complex, recognized as a UNESCO World Heritage Site, was home to the Imperial City where the emperor resided. Within the Citadel's enormous stone walls, you'll find fascinating sites like the Forbidden Purple City, the Imperial Enclosure, and the Royal Library. Intricately decorated palaces, temples, pavilions, and museums offer glimpses into the daily life of royalty and the grandeur of the court.
Just outside the Citadel lies another UNESCO site – the majestic tombs of the Nguyen emperors. Each ruler constructed an elaborate final resting place reflecting their tastes and interests. At the Tomb of Tu Duc, wander through the emperor's serene lakeside palaces and temples set amidst pine forests and listen for the echoes of traditional music and poetry. Or visit the Tomb of Minh Mang with its forest of stone statues guarding the emperor's tomb. By exploring Hue's imperial architecture and royal tombs, you can vividly imagine Vietnam's feudal history.
Meanwhile in Hoi An, the remarkably intact Ancient Town district provides a living museum showcasing over 2000 years of history and culture. Unlike Hue, Hoi An functioned as a major trading port from the 15th to 19th century. Chinese, Japanese, Dutch, Portuguese, Spanish, Indian and French traders all passed through, leaving their marks on architecture, customs, cuisine and beliefs.
Strolling the pedestrian-only streets takes you back centuries in time. The Old Town brims with wooden shophouses, pagodas, assembly halls, canals and ornate bridges reflecting a blend of influences. Visit the iconic 400-year-old Japanese Covered Bridge with its temple dedicated to the god of weather. Pop into centuries-old Chinese assembly halls dedicated to various ethnic groups. Gaze up at the colorful murals and carvings of the ornate Quan Cong Temple. As lanterns glow magically at night, you feel transported back to when this was a bustling port. By exploring Hoi An's diverse heritage sites, you'll gain insight into the town's cosmopolitan maritime past.
Both destinations provide incredible opportunities to immerse yourself in Vietnam's rich history and culture. In Hue, imperial palaces and tombs reveal the nation's dynastic legacy. Hoi An's diverse shophouses, temples, and halls reflect its position as a trading crossroads. Wandering their historic streets, you can vividly imagine life centuries ago in one of Southeast Asia's great empires.
Cuisine
Foodies will adore both destinations, with their distinct culinary traditions!
Hue's imperial cuisine stands out for sophisticated, elegant flavors reflective of its regal history. Dishes often feature fresh herbs, crunchy vegetables, and subtle spices instead of heavy sauces. Hue lays claim to being the birthplace of Vietnam's national dish, the mouthwatering pho noodle soup, and the city's street stalls serve some of the country's best bowls. Other local specialties include banh khoai, a rice flour crepe filled with pork and shrimp. Or try chewy steamed banh bot loc dumplings bursting with minced shrimp and pork. Through its complex imperial dishes, Hue offers a refined gastronomic experience.
Hoi An also shines bright as a foodie destination. Its history as a trading port means you can savor dishes influenced by Chinese, Japanese, French, and Vietnamese cuisines. Choose from mouthwatering Vietnamese classics like cao lau noodles or white rose dumplings, Chinese wonton noodles or steamed buns, Japanese sushi and tempura, French baguettes and cheese, and more. Sign up for cooking classes to learn how to recreate favorites at home. Or join street food tours to sample local specialties sold from carts and stalls around town. With so many diverse, tasty choices, you'll want to loosen your belt! Hoi An offers a delicious fusion of culinary traditions.
Scenery
Beyond the cities themselves, the surrounding landscapes in both regions will enthrall you.
Near Hue, cruise along the serene Perfume River through countryside dotted with Buddhist temples and the royal tombs of emperors like Tu Duc. Stop to explore the Thien Mu Pagoda's iconic seven-story octagonal tower. Journey over the scenic Hai Van Pass, gazing down on pristine beaches, colorful fishing villages, and jungle covered mountains. Or take a day to see rural life in A Luoi township, surrounded by forests and flower valleys.
At Hoi An, ride a woven bamboo basket boat along the palm lined canals out to emerald rice paddies. Pop over to the protected Cham Islands for snorkeling among coral reefs and swimming on white sand beaches. Visit the Marble Mountains to climb stone steps past Buddhist shrines and caves with incredible views. Or drive into the hills to see stunning Bà Nà Hills, crossing the epic Golden Bridge suspended over a valley. Whether you seek rivers, beaches, mountains or countryside, both regions deliver breathtaking scenery.
With imperial cuisine in Hue and a diverse fusion in Hoi An, foodies will delight in the flavors. And the surrounding landscapes like rivers, rice paddies, islands and mountains create unforgettable backdrops for your Vietnamese escape.
Accessibility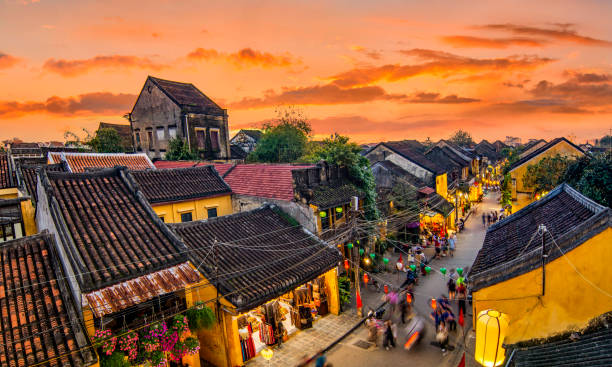 Travelers will find both cities easy to reach. The Da Nang International Airport serves Hoi An, situated just 30km away. Flights connect to Hanoi, Ho Chi Minh City and international destinations. Hue sits about 120km north, a 2.5 hour drive or bus ride. Or take the train and enjoy coastal scenery en route.
Day trips or multi-day tours from either spot allow you to take in both cities if time allows. Private cars or buses run between the two frequently. Or hire a motorbike for more flexibility to stop along the way. With good transportation options, you can base yourself in one spot then explore highlights of the other.
Which to Choose?
With so much shared appeal between these two historic Vietnamese cities, deciding whether to visit Hue or Hoi An is an incredibly tough choice for many travelers.
For those fascinated by Vietnam's dynastic history as an imperial power, Hue may have the edge. As the former imperial capital under the Nguyen Dynasty starting in 1802, Hue is steeped in regal ambience. Exploring the sprawling Citadel complex containing ancient palaces, temples, libraries, and tombs allows you to vividly imagine the splendor and rituals of imperial court life centuries ago. History buffs could spend days immersed in the stories and architectural grandeur of Hue's royal past.
In contrast, devotees of food, culture, riverside charm, and lovingly preserved architecture may find themselves drawn more strongly to Hoi An. Hoi An's intact Ancient Town district enchants visitors with its wooden shophouses, colorful lanterns, and narrow pedestrian streets tailor-made for wandering. Chinese, Japanese, Vietnamese, and French influences blend together in a beguiling multicultural mix. The town's famous dishes like cao lau noodles and white rose dumplings represent the diversity of its culinary traditions. And the serene Thu Bon River provides a scenic backdrop for boat trips or an evening stroll. For many, Hoi An's combination of culture, cuisine and romantic ambience is irresistible.
Truthfully, to fully experience the magic of Central Vietnam, visiting both destinations would be ideal. Hue offers an imperial glimpse into the nation's past, while Hoi An provides a folksy, riverside viewpoint on Vietnamese culture and diversity. Together they provide a richer, more complete introduction to the heritage of this captivating region.
Whichever spot you select as your Vietnamese destination, you're certain to be enchanted by the history, scenery and welcoming spirit. Let your specific interests and travel style guide you. Or throw caution to the wind and don't decide at all – just discover them both! With friendly locals, mouthwatering food everywhere, and sights that will take your breath away, you'll create unforgettable memories in this mesmerizing part of Vietnam.