As a seaside hotel owner in An Bang village outside Hoi An, I often provide tips for travelers on getting around Vietnam. A common question I receive is how to take the bus from Ho Chi Minh City up to Da Nang on the central coast. This can be a long but scenic and affordable bus journey if you plan right. Read on for my insider guide on booking bus tickets, routes, stopovers, and what to expect on the overnight bus from Ho Chi Minh to Da Nang.
Why Take the Bus from Ho Chi Minh to Da Nang
Taking the sleeper bus is a popular way to travel between southern and central Vietnam. Here are some of the key benefits of the bus option:
Cost savings – The bus is very budget-friendly, especially compared to flying.
Scenic views – The route passes through rural countryside and highland towns.
Convenience – Buses run multiple times per day, making this option easy and flexible.
Overnight travel – Buses let you cover a lot of ground while you sleep!
Cultural experience – Interact with locals also riding the long-distance bus.
How to Book Tickets for the Ho Chi Minh to Da Nang Bus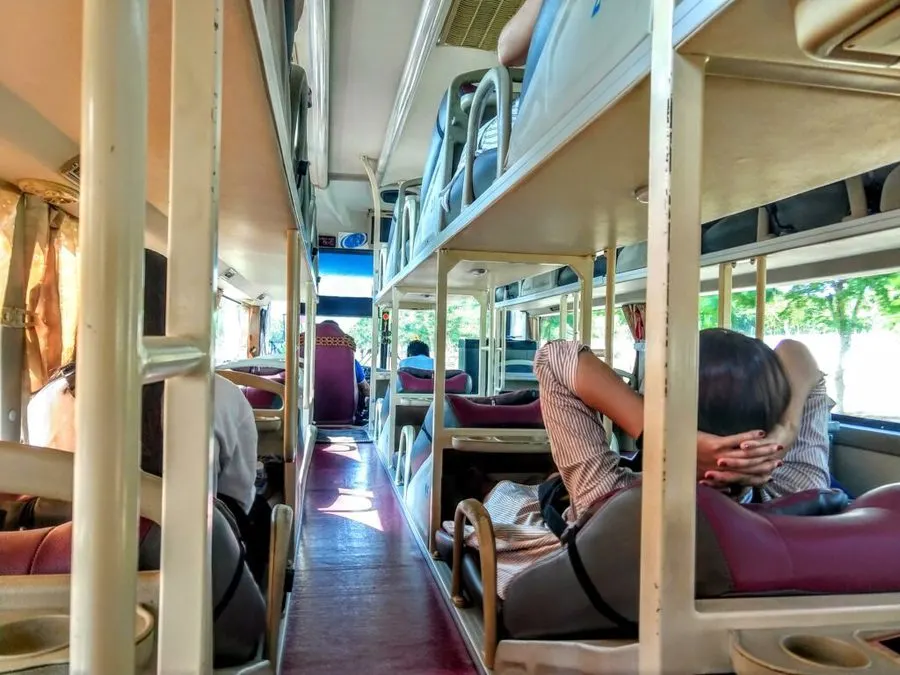 Booking bus tickets in advance is recommended as routes can sell out, particularly during peak seasons. Here are some tips:
Book online – Securely buy tickets through sites like Vexere or Bookaway with an e-voucher to board.
Travel agents – Hotels, tour agencies, and travel shops can purchase tickets on your behalf.
Bus stations – You can buy tickets at the departure stations in Ho Chi Minh City or Da Nang but queues can be long.
Confirm details – Double check the date, time, number of passengers when booking.
Print vouchers – Have copies of all e-tickets, booking confirmations and vouchers with you for the trip.
Bus Route and Duration from Ho Chi Minh City to Da Nang
The bus journey from Ho Chi Minh to Da Nang covers around 965 kilometers up the length of Vietnam.
The total travel time is about 18-22 hours depending on traffic and stops.
There are multiple stops along the way for rest, food, and drop-offs.
The route goes through towns like Nha Trang, Quy Nhon and Hue.
Some buses only go to major midway cities, so book directly to Da Nang.
What to Expect on the Overnight Bus from Ho Chi Minh to Da Nang
Vietnam's sleeper buses have bunk beds so you can sleep during the long trip. Here's what to expect:
Flat bunk beds – The bus has single or double deck bunks with seatbelts. Bottom bunks give more room.
Amenities – Blankets, pillows, earplugs, and eye masks are provided for sleeping. Some buses have wi-fi and charging ports.
AC and stops – Buses are air-conditioned and stop several times for food, bathroom breaks, and pickups.
Storage – There is space to store bags under bus or in overhead racks. Keep valuables on you.
Western toilet – Buses stop at stations with Western-style toilets along the route. Bring toilet paper and hand sanitizer.
Safety – Seatbelts are required when awake or lying down. Buses drive conservatively for a smooth journey.
Great Stopovers Between Ho Chi Minh and Da Nang
The bus trip between southern and central Vietnam passes through tons of towns and cities that make for exciting stopovers. Here are top places to consider:
Nha Trang – Break up the trip with beach time and island hopping in this scenic coastal resort city.
Quy Nhon – Visit the picturesque Phuong Mai Peninsula and enjoy fresh seafood.
Quang Ngai – Pay respects at the poignant My Lai Massacre Memorial site.
Hoi An – Wander charming lantern-lit streets and shop for custom clothes in this historic town.
Hue – Explore the grand imperial palaces, tombs and pagodas of Vietnam's former royal capital.
Hai Van Pass – Take in cliffside views at this mountainous pass overlooking Lang Co Beach.
Tips for Riding the Overnight Bus from Ho Chi Minh to Da Nang
To make the overnight bus journey more comfortable, keep these tips in mind:
Reserve lower bunks in advance for easier access and more space.
Pack earplugs, eye mask, blanket, snacks, water, and entertainment.
Dress in lightweight, loose layers you can add or remove.
Keep valuables in your lap or waist pouch, not stowed luggage.
Sit near the front to avoid bumps – the back gets more jostling.
Be mindful of other passengers by keeping noise down and giving up your bunk if needed.
Get contact details for your bus company in case of delays or issues.
Why Da Nang is the Perfect Central Vietnam Destination
End your south to central bus journey by soaking up all that Da Nang has to offer. Here's a taste of what makes Da Nang a great destination:
Pristine beaches like My Khe, Non Nuoc, and Son Tra Peninsula.
Thriving street food scene with tasty local dishes like mi quang noodles.
Vibrant nightlife and cafe culture in the city center.
Fascinating history and culture with the Cham Museum and more.
Day trips to Hoi An, Hue, and the Marble Mountains.
Luxury resorts, mid-range hotels, and budget hostels to suit all travelers.
After the long overnight bus ride, reward yourself by exploring all the highlights of Da Nang and nearby towns on Vietnam's central coast. From city life to tropical beaches, there's something for everyone. Let me know if you need Da Nang tips to round out your bus journey!
I hope this guide provides all the key details you need to plan your bus trip from Ho Chi Minh City up to Da Nang. Just reach out if you need any other central Vietnam advice! Have an amazing bus ride up Vietnam's beautiful coast.