After a long flight or a few days of sightseeing in Da Nang, there's nothing better than treating yourself to a relaxing massage. At anbangseasidevillage.com, we love getting massages when we travel in Vietnam. The therapists here are incredibly skilled, and it's an affordable luxury. In this blog post, we'll share our guide to finding the best massage in Da Nang, including different types of massages, prices, top spas, and massage etiquette. Read on for our tips!
Overview of Massage in Da Nang, Vietnam
Da Nang is a seaside city known for its beautiful beaches, rivers, and mountains. It's the perfect place to unwind and rejuvenate through massage therapy. There are many excellent massage spas and parlors scattered throughout the city.
You can find everything from quick 30-minute foot massages to 2-hour full body treatments. Massage prices are very reasonable, averaging $15-30 USD for an hour. Most spas offer a variety of techniques including Swedish, deep tissue, aromatherapy, hot stone, and traditional Vietnamese massage.
In this blog, we'll highlight some of the top places to get a massage in Da Nang. We'll also give tips on massage etiquette, what to expect, and how to find a reputable spa. A massage is a great way to relieve muscle tension, improve circulation, and totally relax during your Vietnam travels.
Types of Massage Offered in Da Nang
Here's a quick rundown of the main types of massage you can find around Da Nang:
Swedish massage: A gentle, soothing massage using gliding strokes to increase blood flow. Helps relax the body.
Deep tissue massage: Uses firm pressure to reach deeper muscles and release chronic tension. Ideal for sore, overused muscles.
Aromatherapy massage: Uses essential oils like lavender or eucalyptus for relaxation. Pressure can be light or firm.
Hot stone massage: Heated stones are placed on pressure points around the body for deep muscle relief. Very relaxing.
Traditional Vietnamese massage: A firm, invigorating massage that includes stretching and pressure point stimulation to boost circulation.
Foot massage: Focuses just on the feet, lower legs, and sometimes hands and arms. Quick and affordable option.
Most spas offer a consultation to determine what type of massage would suit you best. Be sure to communicate your needs and preferences.
Average Massage Prices in Da Nang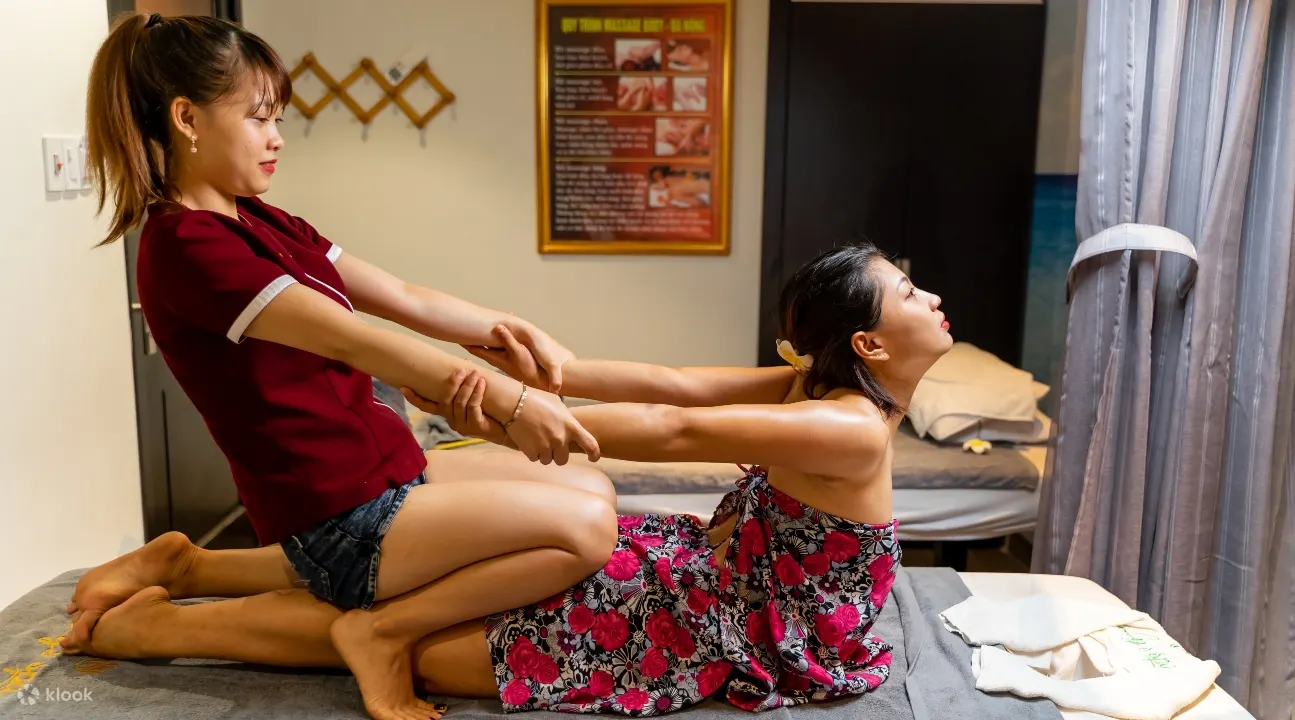 One of the great things about getting a massage in Vietnam is the reasonable prices. Here are typical Da Nang massage prices in USD:
30-minute foot massage – $6-10
60-minute body massage – $15-25
90-minute body massage – $22-35
2+ hour spa package – $35-60
Tipping is not expected but is appreciated for good service. Most spas accept cash payment in Vietnamese dong, USD, or by credit card. Prices may be slightly higher at hotels. Overall, massage in Da Nang is very affordable.
Top Spas and Massage Studios in Da Nang
Based on our experiences, here are some of the best places to get a massage in Da Nang:
Serenity Spa – Beautiful spa with skilled therapists and great packages. We love the hot stone massage.
La Spa – High end spa at Furama Resort with aromatherapy, body scrubs, facials, and more.
Lavender Spa – Excellent foot and body massages in a clean, professional space. Good value.
Christina's – A small massage studio with amazing deep tissue massage. Has loyal local customers.
Dragon House Spa – Traditional Vietnamese massage in a garden setting. Rejuvenating massage at fair prices.
Sense Spa – Lovely spa near My Khe Beach run by a French-Vietnamese couple. Offers unique local ingredients.
Nam An Spa – Part of the Pullman Hotel. A modern spa with skilled therapists and great packages.
Ask your hotel for recommendations too. Many offer direct bookings for nearby spas and may even have in-room massage services.
Massage Etiquette & Tips for Da Nang
To make the most of your spa experience in Vietnam, keep these etiquette tips in mind:
Arrive 15 minutes early to fill out any forms and change. Shower first if desired.
Communicate your needs and problem areas to your therapist. Speak up if pressure needs adjusting.
Remove only as much clothing as you are comfortable with. Undergarments can be worn.
Don't eat a heavy meal before a massage which can make you uncomfortable lying down.
Avoid alcohol or vigorous exercise for 1-2 hours before a massage.
Hydrate well with water after your massage to flush out toxins.
Gratuities are appreciated but not strictly required. 10-15% is fine.
Enjoy the serenity of the spa. Put your phone away and relax.
Getting a massage is one of our favorite things to do in Da Nang. With so many excellent spas and studios, you're sure to find the perfect place to enjoy a relaxing massage during your Vietnam travels. Let us know if you have any other questions!